Superior quality products
Discover the "Relais Gourgmet" Foie Gras and Appetizers.
A 100% South-West of France production in the respect of traditions, original compositions … Welcome to our House!

(1 point per euro spent | 5 points for a product review)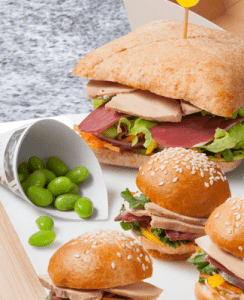 Preparation time: 15 min. For 4 people Difficulty: 1/5 Ingredients 200g of Foie Gras 12 thin slices of smoked duck breast 12 mini-burgers buns or 4 burger buns 1 carrot 1 red onion 1 tablespoon chopped coriander 1 tablespoon wasabi 50 g cooked mung beans 50 g kale 4 lettuce leaves Fleur de sel Pepper
Latest Articles
The city of Bayonne is located in the Basque Country in the region of southwestern France. It is known for its museums, its history and especially its ham. A ham that is refined for months by expert pork butchers and that affect not only animals, breeders, but also the region itself. From animal to cold
Latest Articles
The tapas of San Sebastian are to the Spanish gastronomy what beef Bourguignon is to the French cuisine: a true popular legend. This recipe is a perfect example of the European gastronomic evolution. Indeed, cooking has become worldwide a cultural element that we cannot do without. Find out everything you need to know about this
Latest Articles
97% of satisfied customers
Good products Discovered at the Morainvilliers salon, I really like the taste of your foie gras. With pleasure!
Discover all our news!
Tasting tips, product discovery, the latest news ...
Go to our blog!
Excellent foie gras! And very friendly welcome during the sale of our CE. Come back quickly 🙂
Relais Gourmet commitments: